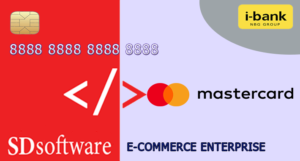 NBG presents a new service for merchants: i-bank e-Enterprise! E-commerce integration for large-sized enterprises is now easier than ever before! By using the Enterprise platform you can have several benefits. The service is available for NBG merchants and is a platform where you can manage your transactions. Apart from the benefits you already have, i-bank e-Enterprise introduces upgraded and innovating functionalities, so that you can take full advantage of digital commerce.
Multiple card support (Mastercard, Visa, JCB, CUP will be soon available)
Responsive design for mobile phones
Easy to use management portal with advanced reporting tools
Flexible integration options (transaction's completion on merchant's site / hosted checkout )
This plugin is under development so contact to report any bugs. Please contact nbg for details , credentials , contracts etc.
demo Opencart 3.0.2.0
admin: https://oc3020.sdware.eu/admin (demo/demo)
catalog: https://oc3020.sdware.eu
Version 1.0.1 –initial release
-Opencart 3 intergration with hosted checkout method
-Supports both redirect page and lighbox
-Auto complete customer's payment details (name , address , postal code etc) from Opencart's cart page
– Supports PURCHASE operation
-Journal theme compatible
Version 1.0.3 –initial release
-Multistore Setup
-check values if init checkout session
Major Features to be added in next releases
– Refund
-Card tokenization
-installments
-Multi store setup
-Compatibility with Opencart's previous releases
Thank you
Compatibility: Opencart 3.X.X
Support can be offered through Opencart's Official Marketplace or by using this form here. (On subject please include the module's name) .
If its neccessary I might need access to your site via admin panel or FTP and in some cases I might be able to help you with remote support software such as TeamViewer or Ammyy .
If you like my module please give one or two minutes to rate my extension in opencart's Marketplace or share this page on social media using the links below. Thank you!