Turn Your Visitors to active customers with this nce and easy to use module.
Boost your sales by offering random coupons to visitors of your site. It also Adds a Nice Scratch off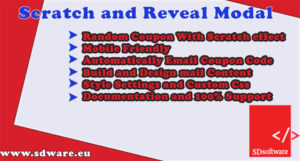 image effect that makes your Site's PopUp modal Unique.
Take full advantage of your Offers with lots of control and style settings. Design your own mail letter and include adtitional offers -campaigns – links etc.
Compatibility: 2.3.X.X & 3.X

Demo Here
Key Features
Scratch off effect
Choose offered Coupons
Customize Message
Design Sent Mail (include Images type and format your text etc) and use shortcodes to display Coupons Attributes
Use System's Mail or Use an other SMTP mail account
Choose after how many visits PopUp Will display
Choose a day or all week You want you Modal to be displayed(nice for campaigns)
Mobile Friendly(No Scratch off effect)
Custom Redirect Link after Send Mail
Lots of style option including Custom CssIts a proven fact that today customers are looking for the best offer available. Make you customers visit your site everyday to "scratch" their offer.
Full Support included from installing and troubleshooting till mail set up!!
I always set specific coupon names available for random selection from Scratch and Reveal Coupon Modal so each time a customer uses it I know where he found it. Combine it with a marketing campaign and boost your sales. Most important using this module will gain your active and new customers but also trafic which will improve you google ranking (SEO)!!!
Find it on official Opencart's Marketplace Here
Support can be offered through Opencart's official Marketplace or by using this form here. (On subject please include the module's name) .
If its neccessary i might need access to your site's Admin Panel or FTO and in some cases I might be able to help you with remote support software such as TeamViewer or Ammyy.
If you like my module give one or two minutes of your time to rate my extension in Opencart's Marketplace or share this page on social media using the links below. Thank you!